After scarfing down half a bottle of The Bossy Gourmet's Hot Jalapeno Salsa a few minutes ago, I felt compelled to post my review of the below lineup of products, which I've enjoyed consuming.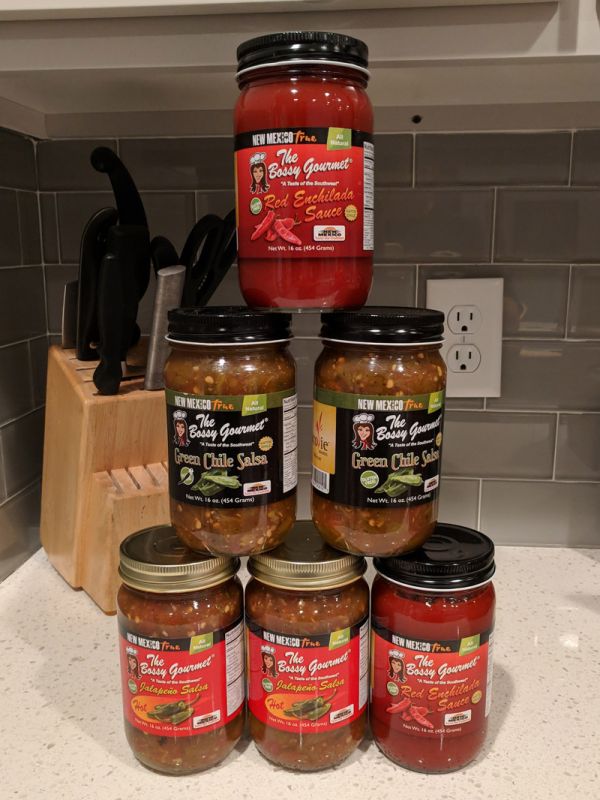 From New Mexico
I've traveled to New Mexico many times, and I've always loved the southwest cuisine.  The spices and recipes there are fantastic.  I was excited and not disappointed in the least when I saw that Bossy Gourmet is from New Mexico.
Bossy Gourmet Hot Jalapeno Salsa
I'm in salsa heaven.  Finally I found a super tasty and hearty salsa that is actually HOT.  99.9% of salsa makers in the market who advertise "hot" salsa are lying. I like the Bossy Gourmet's salsas so much, I'm going to buy more even after I received samples at no cost as submissions for review here.
Green Chile Salsa
The Green Chile salsa is so absolutely yummy!  This one isn't hot, but boasts a ton of terrific and unique flavor.  I polished off those two bottles in no time flat.
Red Enchilada Sauce
I've made numerous batches of enchiladas with the Bossy Gourmet Red Enchilada Sauce.  The sauce is a deep and attractive red color with just as deep of a flavor.  I've got roughly enough for one more batch which I'll be making in the next 24 hours.  Can't wait.
Conclusion
The Bossy Gourmet makes bold, flavorful, and unique sauces which explode with flavor.  Get your mouth on some as soon as possible!