I was on a big road trip for a couple of weeks when I rolled through the small town of Filmore, Utah.  I was starving and had hopes of finding a "ma and pop" style burger joint.  I found one, drove up to the window and was disappointed to be told that they were closed.  So I passed through the rest of town and stumbled upon Cluff's Carhop Cafe.  Great find.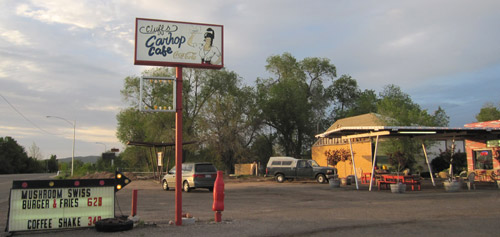 I enjoyed a heck of a bacon cheeseburger with fantastic fries.  I really wanted to have a chocolate shake or malt too as I saw the old school mixing machine.  But I was tired and full and didn't want to take the chance of falling asleep at the wheel due to food coma.
If you're passing through Filmore, Utah be sure to chow down at Cluff's Carhop Cafe!