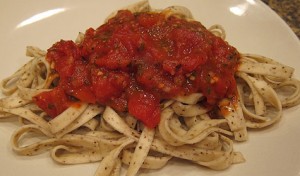 As I write this I'm eating the best leftovers in the world.  I'm having my 2nd helping this week of a great pasta and sauce combination from Pasta Mama's.
About Pasta Mama's
Pasta Mama's began in 1986, when Diane Santillie made pasta in her kitchen and took it to her work, at a gourmet cafe and gift shop.  She couldn't make the pasta fast enough for the shop's customers.  Customers in the shop called her "Pasta Mama" and that's how it got started.
Fast forward nearly three decades and Pasta Mama's now offers a ton of fine pastas and sauce mixes.  I'm happy to say I'll be devouring about 17 of them.  One down, 16 to go.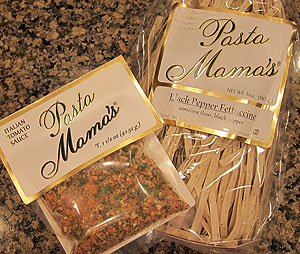 Today's Combo: Black Pepper Fettuccine and Italian Tomato Sauce
In Picture #1 you can see the pasta and sauce.  The pasta is a black pepper fettuccine which has a bit of a kick to it.  I love spicy foods and that pasta is right up my alley.  The lovely wife though, thought it was a bit too spicy for her.  But we found that putting a little mozzarella on the pasta helps calm down the pepper.  So try that if this pasta is too spicy for you.
The sauce is an Italian tomato sauce.  It couldn't be easier to make.  You pour the sauce along with canned tomatoes and cook it up.  Fantastic.
Check out Pasta Mama's and stay tuned for more reviews as I eat my way through the product samples. Yum.