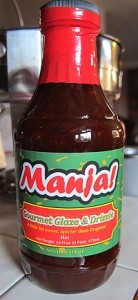 Manja! is a sauce which comes from Mama Brava's Restaurant in Shallotte, NC.  The sauce was so popular in their establishment that they decided to sell it.  That was a good choice.
I just had some Manja! Gourmet Glaze and Drizzle (HOT) a couple of days ago.  I brought it to a family party where it would be an appropriate compliment to the entree.  I enjoyed it and my uncle who is a super cook really loved it.  His description was "it is vinegary sweet with a bit of a kick to it."
Here's the description from Manja!
Our sauce was first introduced to the Coastal Carolina region after winning a "Best on the Beach" competition in 1991, and it has been a best seller in our restaurant for over 20 years. This year we started selling our sauce in bottles under the brand name Manja! Working with a NC co-packer, we did a 75 gallon "test run" in spring, and sold out within four months. Manja! is sold primarily out of our restaurant, but is now stocked in a few NC grocery stores (Hills, Piggly Wiggly, Carolina Farmin') and specialty stores in our area. We never use corn syrup, and all of our sauces are Gluten Free.
I'm a HOT lover but need flavor too.  CHECK!