I know people that literally go NUTS over IN-N-OUT BURGER.  They'll drive what seems to be 100's of miles out of their way just for a burger and fries. Now that there's an IN-N-OUT BURGER down the street from my house, I thought I'd see what all the fuss is about.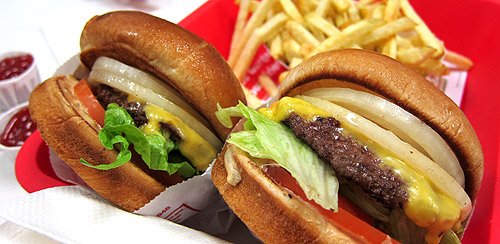 Price
The wife and I ordered cheeseburgers (pictured) and a fry.  The good thing I'd say is that the place is relatively cheap.  For two cheeseburgers, an order of fries big enough for two and two sodas the cost was under $10.  Very reasonable.  Other burger joints might be upwards of $15 for that same selection.
Fries
The fries at IN-N-OUT BURGER are thin.  They're not terribly flavorful either.   In fact, the wife and I found ourselves shoving the fries to each other saying, "you can have the rest."  Not impressed.
Burgers
The cheeseburgers were decent.  My meat was a bit undercooked.  I liked how big the grilled onion slices were.  The best part of the burgers were the buns without a doubt.
At about $2.00 each, I'd say the cheeseburgers are a good value.  Are they the best burgers ever, worth driving hundreds of miles for?  Afraid not.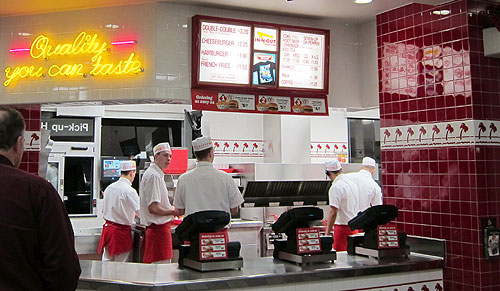 Conclusion
IN-N-OUT BURGER is a good value.  Probably a good place to take the family for cheap chomps.  If I'm in the market for a burger though, I can easily find many places better which I'd be willing to pay a few bucks extra for.