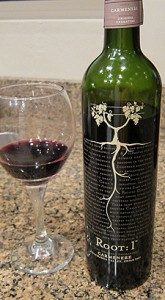 I've loved Carmenere wines ever since I tried my first one.  There's something about this particular grape which is fantastic.  Carmenere's are exclusive of Chile as far as I can tell.  That particular grape grows in that area because of the optimal climate and soil conditions of the area.
Root: 1 Carmenere
As I'm posting this, I'm enjoying a fine glass of this wine.  I picked up a Root: 1 Carmenere about a week ago simply because it was on sale and I knew that I liked Carmeneres.  The Root: 1 has moved up to a position as one of my all time favorite wines.  The price is right too, locally here at $10-13, which means it is sub $10 in other places.
Since that first purchase, I've picked up two more bottles.
The last bottle I bought, the lady at the cash register raved about Root: 1, saying she and her husband loved it.  She was all excited.  Me too, lady.  Me too.