How authentic is this post? I just had to clean drops of Figaretti's Spaghetti Sauce off of my laptop while writing it! I'm posting while eating my 4th meal with Figaretti's Spaghetti Sauce. Tonight's entree is spaghetti with spicy chicken meatballs.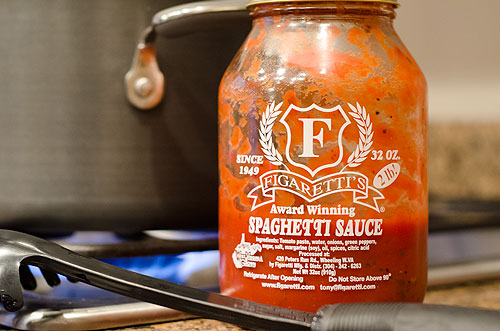 Figaretti's sauce has been around for some 40 years.  It is a fairly thin sauce.  That is fine but I wouldn't complain if it was just a bit thicker.  The sauce is not spicy. Not chunky. It is a good general purpose sauce which would be and has been great for spaghetti, lasagna and even just as a marinara for dipping.
The sauce is available online at Figaretti's web site.  Pricing is two 32oz bottles for about $20.
Critiques
Figaretti's web site needs some work, especially the cart.  Fortunately their sauce is better than their web designer!