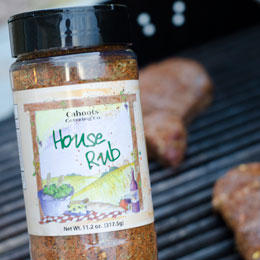 Powered up the grill a few days ago and cooked a couple of nice steaks.  I rubbed the steaks with Cahoots House Rub and let them sit in the fridge for an hour or so before I slapped 'em on the grill.
Cahoots House Rub is a seasoning blend with no MSG (which is great for me since MSG gives me headaches), no sugar and no fillers.  The seasoning comes in an 11.5oz bottle which costs $7.95 via the Cahoots Catering web site.
The steaks tasted great, very juicy and flavorful but not too overboard.  I did them just right on the first try.